NQ Mobile Security & Antivirus Free
8.3.30.00
Free Antivirus – Protect Your Phone from Potential Threats
Are you worried about the safety of your phone? Do you want an antivirus to protect your private information? If yes, then this free antivirus is just what you need. NQ Mobile Security & Antivirus Free is a useful app which protects your phone from viruses, Trojans, and malware and also boosts the performance of your device. It scans the phone for potential threats and vulnerabilities and removes them before they can cause any damage. You can surf the web safely knowing that this antivirus is actively protecting you from suspicious websites and spyware. However, despite being incredibly useful, this antivirus isn't suitable for privacy-conscious people. It requires access to a lot of personal information and can thus, compromise your privacy.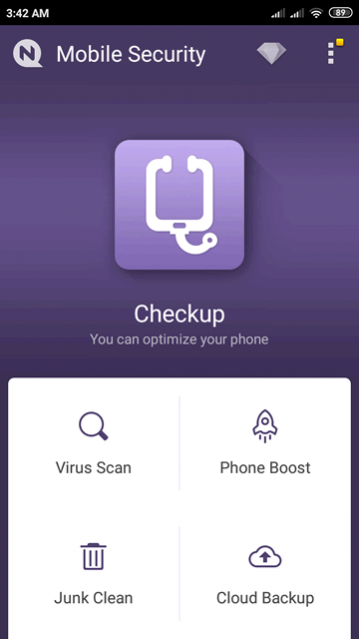 NQ Mobile Security & Antivirus Free has a user-friendly interface. You can easily interact with this free antivirus and use its features. Moreover, this app's intuitively designed layout ensures that navigating it isn't a problem. You can move from one section of the app to the other with a single tap. All the main features are available on the home screen and take you to their respective screens when you tap their icons. For instance, if you tap the 'Virus Scan' icon, you will be directed to a scanning screen. You can choose to do a quick scan of the phone or have it thoroughly checked for viruses and other threats. Quick scans can be run daily while the deep scan should be performed at least once a week.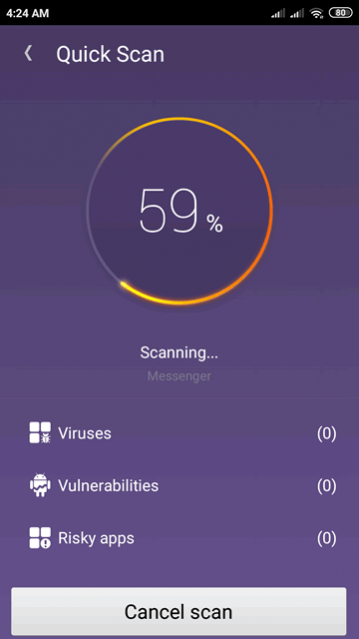 This free antivirus has a very powerful virus-detection engine. It can identify Trojans, malware, and viruses that have been embedded into files quite easily. Aside from viruses, this app can also determine threats to your privacy as well. It isn't just good at detecting threats, though. You can use it for virus removal as well. It will present you with a solution on how to deal with the virus it has detected. You just have to tap the button and the antivirus will take care of the rest. This antivirus protects you even when you are surfing the web. It blocks any phishing websites or spyware that might be after your personal information and can cause a threat to your privacy.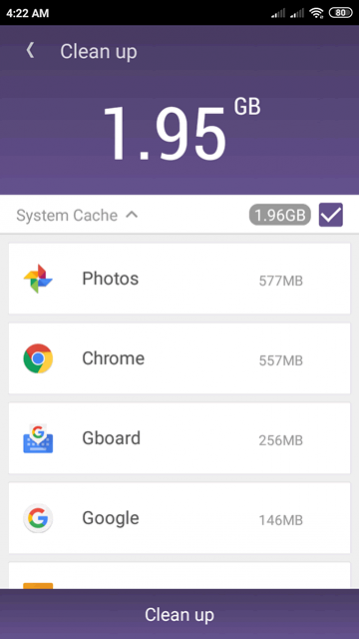 NQ Mobile Security and Antivirus Free enables you to boost the speed of your phone too. It can identify and shut down any app or processes that are running in the background and eating up the system's memory. Moreover, it can also help you free up some storage space by removing all the junk files that have been sitting there for no reason. Just click the Junk Clean icon on the home screen and let this free antivirus round up the apps that have unnecessary files stored on the phone. Once all the junk files have been found, just click on the 'Clean up' button to delete them all at once. This app also offers cloud backup and restore feature to you which works for both Android and iOS devices.
Features:
User-friendly interface
Intuitive design and layout
Scans device for viruses and malware
Blocks suspicious websites to ensure online safety
Preserves your privacy by protecting your personal accounts
Prevents unauthorized access to personal information
Offers backup and restore feature for all platforms
Shuts down background processes to free up memory
Junk Clean feature for discarding obsolete and unwanted files
Monitors data usage and sends alerts to prevent overuse
Conclusion:
NQ Mobile Security & Antivirus Free is an app which is marketed towards people who have concerns about the safety of their phone. It offers round-the-clock protection for their devices and ensures that all the threats are dealt with immediately before they can cause any harm. It is an excellent free antivirus but its intrusive nature makes it a privacy-risk.
---
Add a review
Tell us your experience with
NQ Mobile Security & Antivirus Free
8.3.30.00
RELATED PROGRAMS
Our Recommendations
---
---
---
---